The Wellington spirit in every corner of the world.
Alumni Events
Founders Day
September 22, 2023

More details closer to the event.
For those purchasing personalized bricks, you will have an opportunity during Founders Day to see your brick at the new Roberts Field Gatehouse Pavilion.  
Alumni Soccer Game and Gathering 
Friday, November 24, 2023, 5 p.m. 
Roberts Field, The Wellington School 
Join us in creating a new Wellington tradition! All Wellington alumni and their families are invited to connect with friends while enjoying food, drinks (alcoholic and non-alcoholic beverages), cornhole, and cheering on fellow alumni in a soccer game. The first 50 alumni to arrive will receive a voucher for a free food item! 
RSVPs are not required. Updates will be posted on the Wellington Alumni Association Instagram page.  
The winning team will get their name engraved on the Alumni Soccer Game & Gathering Champion trophy!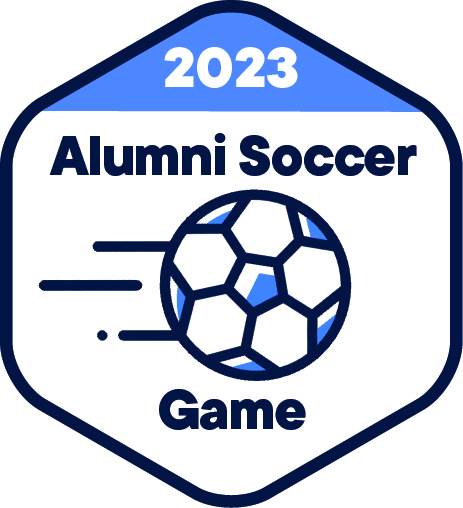 Alumni Celebration and Alumni Weekend
April 19-20, 2024

More details closer to the event.

Celebrate the newest Distinguished Alumni Award winner and new members of the Athletic Hall of Fame. More details will come closer to April 2024.

Classes ending in 4 or 9 – we want to celebrate your reunion! E-mail kirkpatrick@wellington.org for help to organize a reunion!
Alumni Honors
Celebrate Wellington's Best of the Best
Nominations Close December 1
Distinguished Alumni Award
The Distinguished Alumni Award was established in 2015 to recognize a graduate of The Wellington School for significant achievement reflective of the mission of the school.
Nominee Criteria
Be distinguished in their his or her chosen business, profession, or life's work.
Have made a significant contribution or impact on the lives of others, their profession, or in the community.
Be an individual who, in deed or action, recognizes the importance of their education at The Wellington School, and demonstrates pride in Wellington.
Be 10 years past graduation from The Wellington School.
Submit Nomination
2023

Elizabeth Blount McCormick '96
2022

Dr. Daniel Kaser '99
2021

Dr. David C. Schwebel '90
2020

Anna Taft '97
2019

Melissa Tidwell '95
2018

Lt. Col. Shannon Brown '91
2016

Dr. Richard O'Shaughnessy, Jr. '92
2015

Cynthia Callender Dungey '89
Athletic Hall of Fame
The Wellington Athletic Hall of Fame was established in the spring of 1997 as a way to recognize those athletes and coaches who demonstrated through performance exceptional skills, sportsmanship and a high level of integrity, as well as having been honored for outstanding personal achievement.
Alumni Nominee Criteria
Induction to The Wellington Athletic Hall of Fame is an honor reserved for those athletes who have demonstrated exceptional athletic ability, combined with outstanding sportsmanship and integrity.
The athlete must be a graduate of The Wellington School.
The athlete's letters, awards, and records will be heavily considered.
Outstanding college or professional accomplishments will be considered.
There will be a waiting period of five years from graduation before consideration for induction.
Coach Nominee Criteria
Induction to The Wellington Athletic Hall of Fame is an honor reserved for those coaches who have demonstrated exceptional coaching ability, combined with outstanding sportsmanship and integrity.
The coach must display the ability to develop and maintain a successful program.
The coach must have coached a minimum of seven years in the same sport.
The coach must have coached at a high level, which resulted in being named Wellington Coach of the Year, League Coach of the Year, District Coach of the Year, etc.
Meritorious Service Nominee Criteria
Among others to be considered shall be individuals who have made significant contributions towards the advancement of Wellington athletics. In considering candidates, the tireless and unselfish efforts of those individuals should be considered for induction into The Wellington Athletic Hall of Fame.
Submit Nomination
Alumni
2023

Connor Weber '17
2022

Boys Golf Team '11-12
2021

Girls Lacrosse Team '99-00
2021

Sophia Knowles '12
2020

Peter Campbell '10
2020

Bill & Joyce Roberts, Meritorious Service
2019

Brooke O'Brien '09
2019

Jenna Tugaoen '13
2018

Elizabeth (Libby) Graf '05
2018

Annie Miller '13
2016

Kara Concheck '10
2016

Colleen Durfee '10
2015

Bice Garcia Dolciato '96
2015

Craig Mosier, Coach
2015

Ian Wagner '11
2011

J.J. Bain '06
2010

Andrew Farber '97
2010

Kyle Martin '05
2004

Claire Lukeman '02
2004

Tony Pinson '93
2002

Isaac Dole '99
2002

Brittany Little '98
2002

Adam Roberts '00
2001

Amy Johnston Estes '99
2001

Neil Johnston '95
2000

Steve Paull '92
2000

Josh Schmidt '98
2000

Janice Stewart, Meritorious Service
2000

Sam Stewart, Coach
Coach

John Yakscoe
2003

Lorenda Haynes
2003

Tess Emerson
2003

Tracie Abbott
2002

Brian Steginsky
2002

Zachary Fayne
2001

Ryan Martin
2001

Jordan Kilbury
2000

Katie Craig
1999

Adam Stewart
1997

Kelly Ohsner Davie
1996

Brandi Foley Rodgers
1996

Rebecca Spears Hinze
1996

Bob Dolciato
1995

Andy Connor
1995

Robert Black
1993

Amy Richards Burgess
1993

Cliona Howie
1993

Julie Beahm Blankenship
1992

Dorina Yessios
1990

Jennifer Beahm Green
1990

Laura Wilkins Cooke
1989

David Kaucheck
Drop us a line. We'd love to hear from you.
Haven't heard from us in a while? We probably don't have your current email address. Please contact us to update your information and be on the lookout for our quarterly Alumni Newsletter.
Update your info
Support our future Wellington alumni.
Meet the 2023-24 Alumni Association Board
Idin Pirasteh '97
President

Brad Biehl '18
Vice-President

Madeline Meimaridis '24
​​​​​​​Upper School Student Rep

Simrin Ruegsegger '24
Upper School Student Rep